Michelle Weldon is a Pre and Postnatal Fitness Specialist working with Metabolic Mums, here she shares her advice for mums who want to keep fit and healthy during pregnancy. 
Benefits of pregnancy fitness
Fitness during pregnancy has so many potential benefits. These include more energy, control of weight gain, reduced swelling, reduced back pain, improved sleep, easier labour, quicker postnatal recovery plus the added social benefits of getting out and meeting other mums.
How do you start?
You have just discovered you're expecting, what's next? My advice is to continue doing exercise as normal provided you feel well enough. After you've confirmed the pregnancy with your Health Care Professional, they may wish to advise you further, in most cases continuing with exercise is not an issue provided it's a normal healthy pregnancy with no prior complications.
I always remind my clients to listen to their bodies, mums do know best at the end of the day and if there is any doubt you should seek professional advice, either from your GP or local midwife.
How much exercise should you be doing?
Fitness levels prior to pregnancy will play a part when following a fitness programme. Pregnancy is not the time to introduce new workouts. It's recommended to continue doing the same workouts as before and lowering the intensity and resistance as you enter the different trimesters. For women who may not have been very active before pregnancy, don't fear, there are still plenty of ways to get active, stay fit and feel good during pregnancy. Walking is fantastic for everyone, it's free, promotes fat loss & improves overall fitness. Once you have good outerwear clothing and a set of comfy trainers your all set.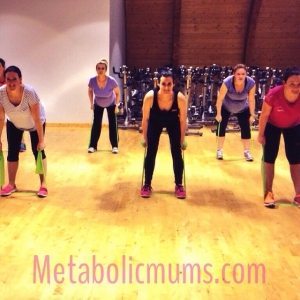 Nutrition
Prenatal nutrition is vital for all expecting mums. Contrary to popular belief, you are not eating for two, but you should be aiming for top nutrition so that the baby gets the best start possible.
On average woman should expect to gain:
1-3kg for first trimester
6-8kg in the second trimester
3-4kg in the third trimester
Additional iron, calcium and Vitamin D are needed which can be sourced from various foods such as dark leafy greens (calcium), lean meat & poultry (iron) & fatty fish (vitamin D). A prenatal multi-vitamin is also recommended to ensure adequate intake.
Metabolic Mums
At Metabolic Mums, we train women in all stages of pregnancy, from the first trimester right up until they are ready to give birth. I have had clients attend my classes at 40 weeks.
Each class includes functional based exercises; body weight squats, lunges, push-ups and deadlifts are my top four. Each of these can be performed using body weight or adding extra resistance such as resistance bands or free weights (depending on experience). All can be done at home if you are unable to get to the gym or studio, and each exercise can be adapted for the different stages of pregnancy.
The aim of any prenatal exercise programme is to prepare mums physically for the demands of labour and post birthing period. The stronger you are in pregnancy lowers the risk of birthing complications and also promotes a quicker postnatal recovery.
Michelle Weldon
Metabolic Mums
Twitter: @metabolicmums
Facebook: Metabolicmums
Web: metabolicmums.com
Email: info@metabolicmums.com
maternity&infant
Originally posted 2014-11-26 11:11:24.