Is it safe to dye your hair during pregnancy?
Yesterday the media was rocked to its roots (excuse the pun) because Kate Middleton stepped out with grey hair. But lets be honest… the tiniest, almost invisible few strands of grey hair, tucked away behind a pretty twist in her hair.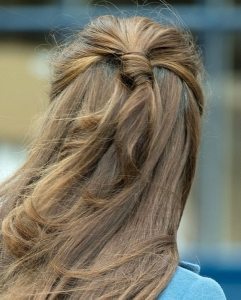 However, Kate didn't dye her hair during her last pregnancy and it appears she might not be dying it for this pregnancy either. So we decided to ask the question – is it safe to dye your hair during pregnancy?
Is it safe to dye your hair during pregnancy?
The chemicals in permanent and semi-permanent hair dyes are not highly toxic. Although research is limited, it shows that it's safe to colour your hair while pregnant.
Many women decide to wait to dye their hair until after the first 12 weeks of pregnancy, when the risk of chemical substances harming the baby is lower. If you're colouring your hair yourself, you can reduce the risk further by making sure that you:
wear gloves
leave the dye on for the minimum time
work in a well-ventilated room
rinse your scalp once the dye is applied
Remember that pregnancy can affect your hair's normal condition. For example, your hair may:
react differently to colouring or perming than it usually does
become more or less absorbent, frizzy or unpredictable
It's always a good idea to do a strand test first, using the hair dye or treatment that you intend to use. Speak to your hairdresser for advice.
Is it safe to use hair dye when breastfeeding?
Information about hair treatments while breastfeeding is limited. However, it's very unlikely that a significant amount of the chemicals used in hair dyes will be passed on through your breast milk. This is because very little enters your bloodstream.
(All information obtained from the NHS)
maternity & infant
Originally posted 2015-02-20 14:45:46.