m&i loves: The Comfortchew
New from Cheeky Chompers, the home of the award winning Neckerchew, comes the Comfortchew!
The latest innovation in teething products, the Cheeky Chompers Chew Pack combines the newly launched Comfortchew, a luxurious attachable teething comforter with tags and an award winning Neckerchew, the World's first chewy dribble bib for teething tots, in a stylish matching pack.
The Comfortchew is an attached teething comforter with different textures to stimulate babies & soothe tender gums. Made from super-soft jersey cotton, cuddle fleece & ribbons, the Comfortchew brings together baby's four favourite essentials – comforter, teether, tags and the feel of their favourite teddy!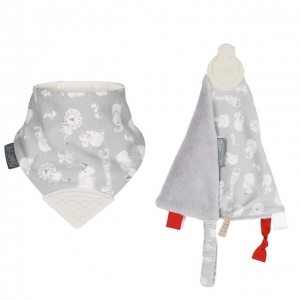 As seen on Dragon's Den, the Neckerchew combines the popular dribble bib concept with an attached dimpled chewy teether to soothe painful young gums. Available in 15 stylish designs, it adds a stylish touch to any baby or toddler outfit.
Fully reversible, it is made from super-soft jersey cotton that is delicate on young skin but highly absorbent, making it suitable for all day wear. A special absorbent middle layer locks dribble and moisture away from small chests and reduces irritation.
Day or night, inside or out, your little one's teether will stay attached allowing the baby to be in control as to when and where they want to use it. A stylish addition to any outfit, or as their comforter to soothe, the Chew Pack is made in the UK, developed by mums for mums as a practical, quality and stylish solution for your baby's needs.
All Cheeky Chompers products are available online. 
maternity & infant
Originally posted 2015-01-20 09:34:31.