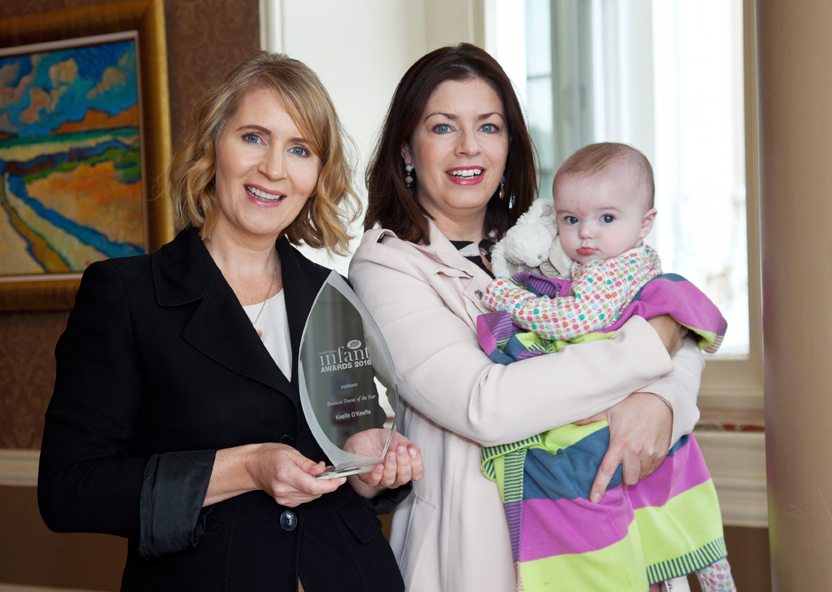 This Business Parent of the Year began her company at the most hectic time in a mother's life, but faced every hurdle with grace and resolve.
Keelin O' Keeffe
In 2014, entrepreneur and mum of one Keelin O'Keeffe was all set to launch her boutique baby label kiki moon. But in the madness of designing an amazing new baby range, liaising with manufacturers and selecting fabrics, Keelin soon discovered that an even bigger launch was scheduled mere months before this new venture, the arrival of her second child, Kaela.
Undeterred by the hectic times that lay ahead, Keelin, with the love and support of her family, prepared for her latest adventure. It is this inspiring determination and resolve that makes Keelin our Business Parent of the Year.
During a difficult pregnancy, Keelin faced numerous health concerns. Most notably, she suffered severely from Symphysis Pubis Dysfunction (SPD), which left her unable to walk and requiring the use of crutches for most of her final trimester. Keelin's sister Aideen remains in awe of everything she has accomplished. Aideen says, "nothing got in her way of achieving her vision. She was so determined that this business was going to happen and happen it did!"
Keelin's little girl Kaela was born on March 1st, during a snowstorm in Dublin, and kiki moon launched only a few months later. With unbending determination and an unrivalled work ethic, Keelin has transformed kiki moon from a small home-based business into a considerable enterprise that is quickly gaining momentum and garnering international recognition.
Keelin now ships her beautiful products to 35 countries worldwide, her biggest market being the UK and Ireland. The impeccable quality and creative flair of her blankets and baby wear have captured the attention of the media at both home and abroad. Recently, Manhattan-based journalist Peachy Deegan praised her blankets as 'the ideal gift for the young around the world' and hailed Keelin as someone 'who is clearly keeping Ireland on top.' Contributing to the mounting success of kiki moon, celebrity party planner Mindy Weiss (whose client list includes the Kardashians, Ellen Degeneres, Heidi Klum and Pink) is hoping to incorporate kiki moon products into her famed luxury baby showers.
In the face of raising her young son Ethan, bringing her beautiful daughter Kaela into the world and starting kiki moon, Keelin's resolve to create a better future for her children never wavered. Aideen says, "Keelin has not allowed anyone or anything to dampen her vision. She constantly inspires me with her passion and determination to succeed." Keelin manages all areas of kiki moon with a flair and finesse that's exclusively reserved for the giants of enterprise. Yet, when the laptop is closed and the workday has finished, she's not just an inspiring businesswoman, but also a proud mum of two.