So much exciting baby news in celebville this morning! We're not ones for posting celebrity stories but we were overwhelmed with so much happy news we had to share.
First up is the wonderful John Legend and his beautiful wife Chrissy Teigen who are expecting their first baby. This news is extra happy because Chrissy recently revealed the couple were struggling to conceive and were in the process of seeing fertility specialists.
She rightly pointed out, people should be careful in the constant questioning of when couples were going to get pregnant as nobody knows what is going on in the background.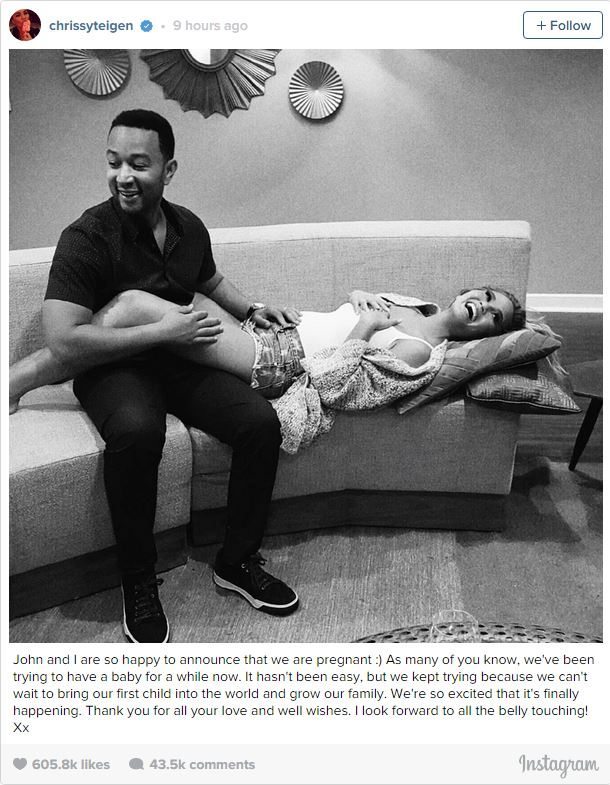 Another celebrity expecting soon, is non other than Hugh Grant who is expecting his fourth child! This news shocked us a little – 4 kids! When the hell did that happen?
But in a recent interview Hugh said he was even shocked at well he had taken to fatherhood: "Lots of people warned me…that the baby period is not that exciting. But I am excited, actually. I thought, well, I'll bluff through – but very little bluffing has been required." Hugh said he was thrilled to be a dad and it had made him a better person!
Well he is most definitely going to have his hands full with four! Congratulations to Hugh and his partner Anna.
Finally, 'You're Beautiful' singer James Blunt has reportedly announced he is also to become a dad for the first time with wife of one year Sofia Wellesley. James is currently in Austrailia filming latest series
of Australian X-Factor, when quizzed about the pregnancy at a red carpet event on Friday James gave very little away. We'll just have to be on #bumpwatch!
maternity & infant