No spoons required for these quick and easy hand-held desserts that your kids will go mad for. The best thing about them is that they err on the healthy side, with only our Peanut butter cookies containing any added sugar.
How do you find our recipes? Let us know what you'd like to see more of (and less of!).
Peanut butter cookies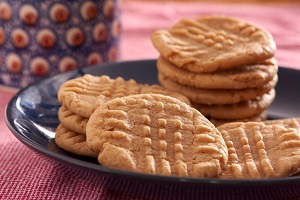 Makes about a dozen
Ingredients
40g caster sugar
110g crunchy peanut butter
75g unsalted butter (softened)
1 large egg yolk
125g plain flour
Method
Preheat the oven to 180 degrees Celsius for a fan assisted oven. Combine the peanut butter, egg yolk, sugar and flour into a bowl and mix together until you have a workable dough. Divide mixture into 12 even sized balls and place on a baking tray. Flatten down the balls with the back of a large fork. Bake for about 15 – 20 minutes or until golden brown. Leave to cool completely on the tray before placing in an airtight container.
Banana and chocolate popsicles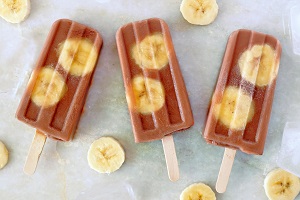 Makes about six ice pops depending on the size and shape of your moulds.
Ingredients
4 large ripe bananas
3 tbsp of unsweetened cocoa powder
3 tbsp of Greek yoghurt
3 tbsp maple syrup
Method
Slice one banana thinly and set aside (you want each popsicle to have about two or three slices of banana in it). Roughly chop and place the rest of the bananas into a blender or food processor with the yoghurt, syrup and cocoa powder. Blend until mixed together. Pour mixture into moulds halfway, and place two or three slices of banana into moulds. Fill rest of moulds with the mixture.
Freeze for about 8 hours or overnight. To loosen popsicles from moulds, run under hot water.
All in one blender muffins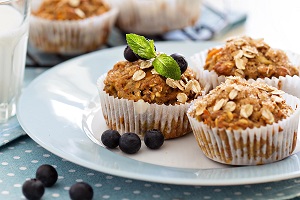 Makes about a dozen mini muffins
Ingredients
1 large banana
80g of porridge oats
125g greek yoghurt
1 egg
1 tsp baking powder
20g dates (about 3 or 4)
Topping
12 raspberries or blueberries
Handful of oats
Method
Preheat oven to 180 degrees Celsius for a fan assisted oven and lightly grease or line a mini muffin tray with muffin cases. Add the banana, oats, yoghurt, egg, baking powder, and dates to a blender or food processor and blend together. Pour mixture into muffin cases and top with a berry of your choice. Bake for approx 15 minutes or until a toothpick comes out clean. Allow to cool completely before removing from tray.
maternity&infant
Originally posted 2017-08-14 17:33:15.