New tastes: Easy baby food recipes
With the seasonal goodies available to us at this time of year, now is the perfect opportunity to get more adventurous with your recipes.
When your baby is six months-plus, try to avoid just giving plain fruit and vegetables and get them trying these tasty purée combinations that are nutrient dense and packed full of flavour.
Little Stars with Minced Beef
Preparation 10 minutes. Cooking 25 minutes. Makes 3 portions. Suitable for freezing
60g (2oz) pasta stars
10g (¼ oz) unsalted butter
1⁄2 small onion (30g/1oz),
peeled and finely chopped
1 small carrot (50g/2oz), peeled
and finely chopped
30g (1oz) celery, washed and
finely chopped
75g (3oz) minced beef
½ teaspoon redcurrant jelly
10g (¼ oz) plain flour
250ml (8 fl oz) unsalted beef
stock
1 teaspoon tomato purée
1 teaspoon Worcestershire
sauce
½ teaspoon chopped thyme
Method:
Cook the pasta following the packet instructions, then drain. Melt the butter in a saucepan, add the onion, carrot and celery, and sauté for 5 minutes.
Add the mince, and brown for 5 minutes, breaking up the lumps with a fork as you stir. Add the redcurrant jelly and sauté for 1 minute.
Add the flour, then the stock, tomato purée, Worcestershire sauce and thyme. Simmer for 10 minutes, uncovered. Stir in the pasta.
Squash, Salmon and Spinach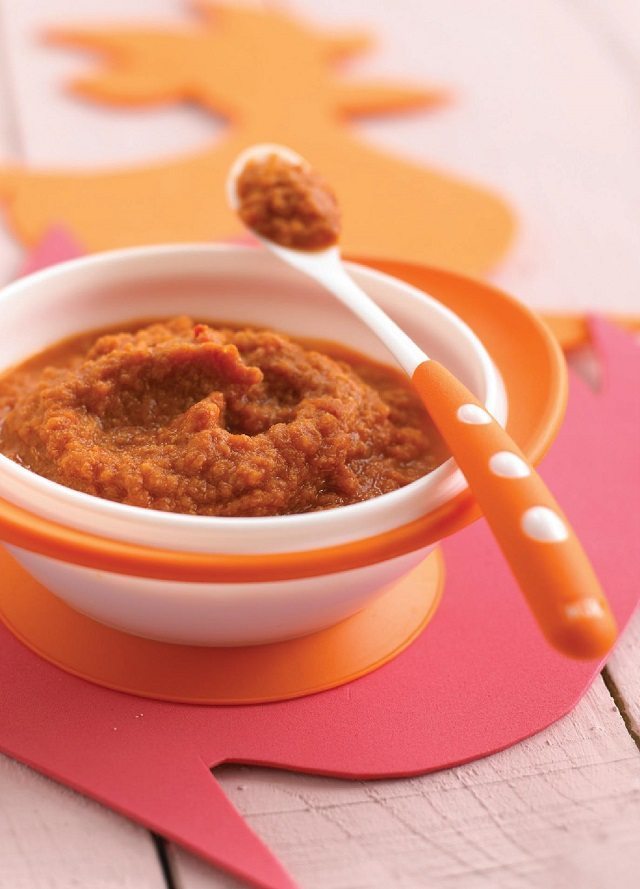 Preparation: 10 minutes. Cooking: 25 minutes. Makes: 4 portions. Suitable for freezing
2 tablespoons sunflower oil
½ small onion (30 g/1 oz), peeled
and chopped
200g (7oz) butternut squash,
peeled, deseeded and chopped
350ml (12 fl oz) water
225g (8oz) salmon fillet, skinned and
chopped
50g (2oz) baby spinach, washed
2 tablespoons cream cheese
1 tablespoon Parmesan cheese,
grated
2 teaspoons chopped dill
Method:
Heat the oil in a saucepan. Add the onion and fry for 3 minutes. Add the squash and water. Simmer for 15 minutes, until the squash is soft.
Add the salmon and spinach and stir for 3 minutes, until the salmon is cooked and the spinach is wilted.
Add the cream cheese, Parmesan and dill. Blend until smooth using an electric hand blender.
Enjoy!
maternity & infant
Originally posted 2015-01-09 09:57:25.