Indulge yourself this weekend with this deliciously healthy desserts that won't leave an ounce of guilt on your lips.
Low-fat baked pears with amaretti
Prep time: 5 mins
Cooking time: 20
Ingredients:
4 ripe pears
100g ricotta
½ tsp cinnamon
4 tbsp clear honey, plus extra to serve
8 crisp amaretti biscuits
Directions:
1. Cut each pear in half, then place on a large baking tray. Use a teaspoon to scoop out the cores and make a dip in the centre of each pear. If your pears are firm, you may need to use a sharp knife to do this. Dollop about 1 heaped tsp ricotta into each dip, then sprinkle over the cinnamon and drizzle with a little honey.
2. Heat oven to 190C/fan 170C/gas 5, then roast the pears for 10 mins. Tip the biscuits into a food bag and use a rolling pin to lightly crush them. Remove the pears from the oven, then scatter the crumbs over each pear. Return to the oven for another 10 mins or until the pears are soft and the biscuit golden brown. Serve drizzled with honey.
Special K Parfait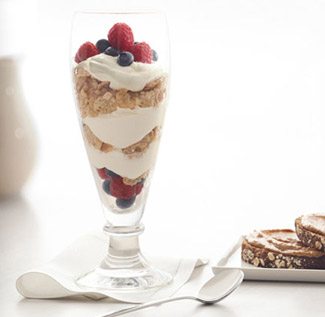 Total Time:5 / Prep Time:5
Ingredients:
1 container (8 oz.) low-fat vanilla flavoured yoghurt
1 cup fresh fruit (sliced strawberries, sliced banana, blueberries or raspberries)
1 cup Kellogg's® Special K® Multi-Grain cereal
Directions:
1. In 2 tall glasses, layer yoghurt, fruit and cereal until glass is full
2. Top with extra fruit.
3. Serve immediately.
Pear and blueberry crumble
Ingredients:
6 pears, peeled, cored and roughly chopped
2 tbsp fresh lemon juice
2 tbsp brown sugar
Juice and zest of an orange
1 tsp ground cinnamon
2 cups frozen/fresh blueberries for the crumble topping
3 cups Special K Oats & Honey, crushed slightly
100g butter,melted to serve
Low-fat Greek Yoghurt/Ice cream to serve
Directions:
1. Pre-heat the oven to 180°c.
2. Cook the pears, lemon juice, brown sugar, orange juice and zest in a saucepan, covered, until the pears are easily pierced with a knife.
3. Add the blueberries and cook for another minute. Remove from the heat and spoon into 6 oven-proof ramekins.
4. To make the topping, mix the Special K Oats & Honey with the melted butter. Spoon generous amounts of the crumble topping onto the pears & blueberries and place in the oven.
5. Allow to bake for 10-15 minutes until the topping is golden brown and crisp.
6. Remove from the oven and allow to cool slightly before serving with low-fat vanilla ice cream or Greek yoghurt.
maternity & infant
Originally posted 2015-03-26 10:03:46.