Mexican food is always a crowd pleaser, but sometimes it's just not worth the mess of dishes and pots when you do some build-it-yourself fajitas or burritos. But that's where enchiladas come in. They're tidy in their baking dish, but oozing with delicious sauce and melted cheese.
Ingredients
2 tbsp vegetable oil
1 small white onion, peeled and diced
600g diced, boneless chicken
100g green chillies (optional)
1 can of black beans or lentils (rinsed and drained)
8 large flour tortillas
3 cups of grated cheese (Cracker Jack and cheddar is a nice combo)
400g (or as needed) of red enchilada sauce, or hot sauce (You can always use a mild version if you need to).
Optional toppings: sour cream, diced avocado, chillies, red onion, fresh cilantro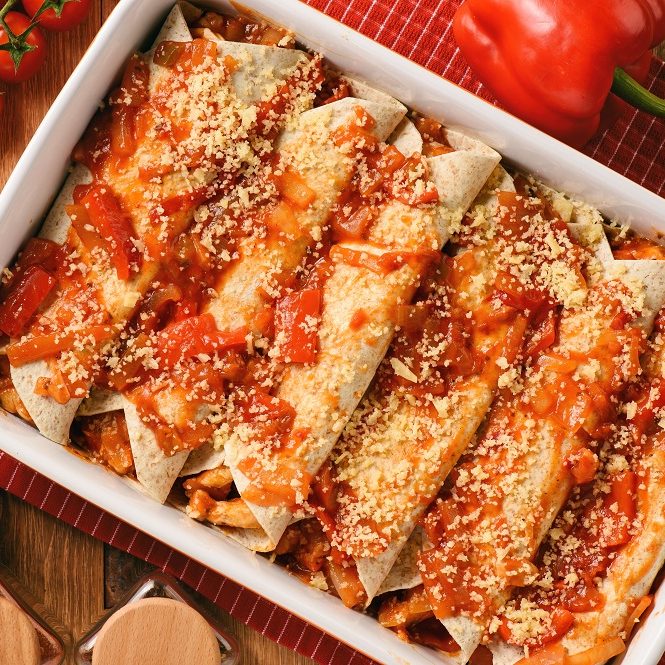 Method
Preheat the oven to 160 degrees Celsius for a fan assisted oven. Heat your oil until shimmering, then saute the onions in a large pan for 3 minutes. Add in the chicken and diced chillies and saute for about 6 to 8 minutes, until chicken is cooked.
Set up your enchilada assembly line like this:
Tortillas
Hot sauce
Beans
Chicken
Cheese
Spread 2 tbsp of sauce on your tortillas, then add 2 tbsp of beans, chicken and 1/3 cup of cheese. Place your rolled up tortilla into a greased baking dish about 9 x 13 inches. Repeat for all 8 flour tortillas. Top with the rest of the enchilada sauce and cheese and bake in the oven, uncovered for about 10 to 12 minutes. Careful – you don't want the cheese to burn!
Serve immediately and garnish with extra toppings of your choice.
Originally posted 2018-04-18 16:51:14.