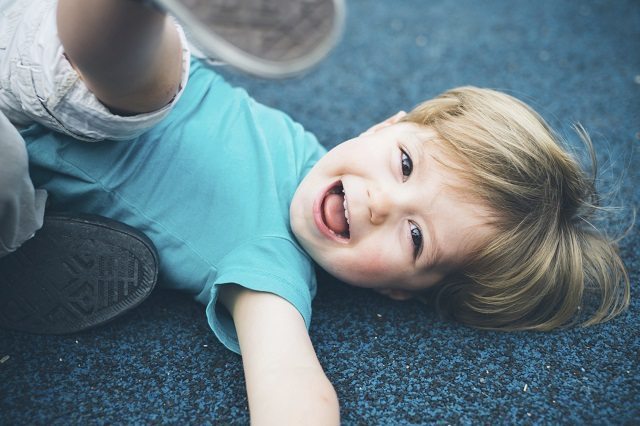 We all try to drive as much energy as possible into keeping our children active and entertained but some days are just plain harder than others. For days when your child is full of beans and your out of fuel here's Nine Toddler Games for Lazy Parents.
Spa Day
For little girls who want to act like big girls for the day, inventing your own home spa may just be the answer. Your kids will get a  thrill out of running their own "business" and you'll get to relax as you're treated to a well-deserved foot massage and a complimentary manicure – I hope you like sparkly nail varnish.
X Factor
Is your child one of those toddlers brimming with energy and demanding your attention? By all means give it to them, but there's no reason why they shouldn't have to work for it first. Stage your own live version of the X factor and insist that your child put total commitment into the performance. This means they have to organise a costume and go practice their song for at least 20 minutes in the next room. When competition time arrives all you have to do is sit on the couch with a cup of tea and your best Simon Cowell impression.
Hide and Seek
Who doesn't have beloved memories of this childhood favourite game? Let your child hide themselves away while you close your eyes and count to 100 (in your head). The longer you take, the more impressed they'll be with their fantastic hiding spot – just make sure you don't fall asleep!
Movie Day
Instead of just sticking on any random TV show to entertain your toddler, make an experience out of the event. Find a film you'll both love (I recommend Frozen), make some salted popcorn, close the curtains and curl up on the sofa together.
Dinner Party
Need help making dinner? While it might be seen as irresponsible to let your children near frying pans, they can be tricked into helping in other ways. Why not suggest the idea of throwing a dinner party to your little ones. In truth, this is a just a ploy to get them to set the table but they don't need to know that. Reel them in by saying everything has to be super fancy for when their guests arrive. You can let them fold napkins and light small candles during dinner to complete the effect.
Sports day
There's a little set up involved with a sport's day but it's well worth the entertainment value – for you, not your child. Watching as they amble aimlessly through the convoluted obstacle course you've created will resemble a live showing of You've Been Framed. Remember if there's any funny business or arguments about who came in first place, you're well within your rights to make them go back and start again.
Hairdresser
You probably don't want your toddler near your hair with a pick comb or hairspray so it's probably better if you take the leading role in this activity. By sitting down on the couch while your child rests on the floor in front, you can while away hours brushing and styling her hair. This can provide some quality mammy daughter time with minimal effort.
Colour Therapy
Colour therapy is the new trend for adults who feel stressed. Perhaps it's works because the task itself reverts us to our childhood when life appeared to be simpler. Regardless of why, it makes the perfect opportunity to spend quality time with your kids, doing an activity they love while you all relax and unwind.
Artist
If your child figures themselves as the next Monet then perhaps as a loving parent you should encourage this talent. Help them practice their still life by lying down and allowing them to draw you. Remember for this to work you must stay absolutely still, no you can't even do housework – The things we do to help our kids.
maternity & infant
Originally posted 2016-01-15 18:46:06.