It's a baby boom for our favourite celebs; some with beauitful newborns joining their families and many more expecting arrivals in early 2018!
Recently, it seems that there is no other way to announce your baby's arrival or conception other than on social media. And we know why: it's simple (minimal work for you), and effective (it reaches the highest number of people possible).
We're not complaining – we are delighted with this trend and look forward to seeing more beautiful snaps of tiny, newborn hands or feet and gorgeous pregnancy bumps blooming on our favourite celebs!
Here's who has announced their pregnancy, or had their baby recently in celeb-land!
Jessica Ennis Hill
Dame Jessica Ennis Hill (Heptathlon champion and full-time mum) just gave her son (Reggie, 3) a baby sister last Saturday night. She announced the happy news via Instagram with this lovely snap of her daughter Olivia grasping a finger.
https://www.instagram.com/p/BZb6swWlNXx/?taken-by=jessicaennishill
Behati Prinsloo and Adam Levine
Victoria's Secret model Behati Prinsloo also took to Instagram to announce her pregnancy news with this simple little snap of her growing belly on September 13th with the caption 'ROUND 2…..'. From that, we think she sounds like a mum who knows exactly what's she's getting into!
https://www.instagram.com/p/BY_wvTBFIMm/?taken-by=behatiprinsloo
The pair have daughter, Kate who you can see in this beautiful snap of the family together when dad Adam Levine (of Maroon Five fame) received his star on the Hollywood Walk of Fame. 
https://www.instagram.com/p/BQWjWRNB0Fd/?hl=en&taken-by=behatiprinsloo
Helen George & Jack Ashton
Call the Midwife star Helen George is expecting her first child with husband Jack Ashton. Contrary to the norm, Helen surprised everyone by simply showing up to the TV Choice Awards with her blossoming bump, rather than taking to social media to announce the happy news!
https://www.instagram.com/p/BYqsvbJFR9c/?taken-by=helenrgeorge
The Duke and Duchess of Cambridge
Now, here's one that did surprise us. While not an Instagram snap, Kensington Palace still took to Twitter to announce the happy news that The Duke and Duchess of Cambridge are expecting a third child. The royal announcement (where are the heralds though?) took place in September 2017 and said that "the Queen and members of both families are delighted with the news."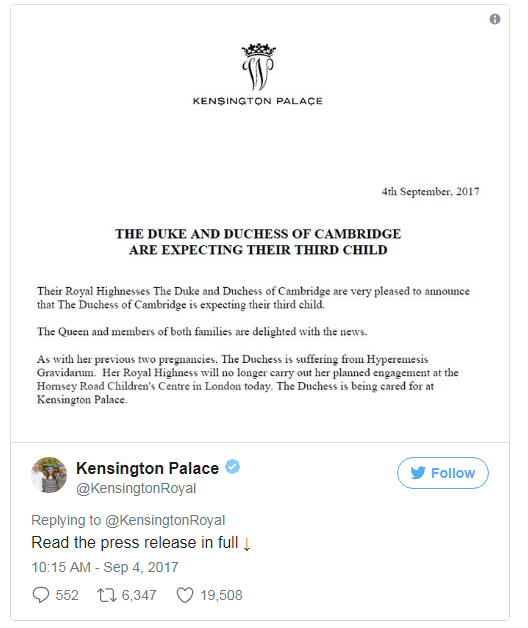 To hide her pregnancies in the early stages, it's been said that Kate Middleton changes one other aspect of her appearance to send fans into a frenzy, so they won't notice her growing stomach. This time, she got a choppy haircut that made headlines all over the world and very effectively kept eyes upon her head and not on her growing tummy!
Rose Byrne and Bobby Cannavale
Not a social media post but public nevertheless, the couple announced they were expecting their second child together in an interview with DavidJones.com. The couple already has one gorgeous 18-month-old Rocco and Bobby Cannavale has a son (Jake, 21) from a previous relationship.
https://www.instagram.com/p/BWSrjz3gZHq/?taken-by=bobby_cannavale
Are there any celeb-babies that you're excited to meet?
maternity&infant
Originally posted 2017-09-25 16:21:53.