The best baby sling on the market
There is great excitement at Papoozle HQ as Mother & Baby announce the unique baby sling as it's winner in The Little Test.
Papoozle went up against five other baby sling brands including, Chicco and Ergobaby, but came out on top with five stars being praised for its cleverly designed waistband, which transfers weight from the shoulders and back onto the hips.
The tester was also impressed with how the sling supports three different positions. This is not the first time Papoozle has impressed the national parenting title, having scooped Gold for Best Baby Carrier in the 2009 Mother & Baby Awards and Silver in 2011
It is no surprise Papoozle was found to be the best all-rounder. Thanks to its unique combination of a stretchy fabric upper attached to a padded structured waistband, it is a truly comfortable design enabling mum and dad to enjoy snuggling up to their little ones for long periods of time without the backache. And, as it's completely hands free, getting on with everyday errands is easy!
What makes the Papoozle such a great choice is that it is incredibly easy to use from birth right up to 35lbs, and one size fits all making it a fantastic investment too! What's even better is, it allows parents to carry their baby in three different ways, facing in, on the hip and it also provides a handy support for breastfeeding mothers.
The Papoozle sling costs approx. €66 and can be bought online at www.papoozle.com. 
Three ways to wear it: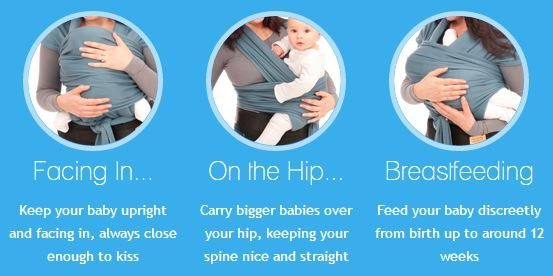 Product design:
The unique combination of a stretchy fabric upper attached to a padded structured waistband provides unbeatable comfort for you and your baby.
It can be worn for hours at a time, giving you lots of snuggles and hands free parenting without the backache.
The soft padded straps gently cocoon your baby's head keeping him safely tucked in when you are on the move.
The design ensures that your baby is carried with knee-to-knee support for healthy hip positioning.
Unlike carriers with thin stiff shoulder straps your baby's weight is distributed across your whole back and then down through your hips as he gets heavier. It can be used from birth up to 35lbs
Soft padding eliminates pressure on your neck and shoulders
One size fits all with one simple adjustment. Easy to put on too, no origami skills required.
maternity & infant
Originally posted 2015-02-02 15:31:43.