Baby Bee Cream-to-Powder goes on as a cream for a targeted application and dries to a soft, powdery finish with its 2-in-1, non-irritating formula. With the benefits of a diaper cream and baby powder in one, it helps absorb wetness while leaving baby's skin soft, dry, and smooth.
Here at m&i we decided to ask our real mothers for their reviews of this product, to find the best products around for you and your little tot.
The review
Siobhan Stapleton tested this diaper cream on her two baby boys, aged 5 and 16 months.
[fusion_builder_container hundred_percent="yes" overflow="visible"][fusion_builder_row][fusion_builder_column type="1_1″ background_position="left top" background_color="" border_size="" border_color="" border_style="solid" spacing="yes" background_image="" background_repeat="no-repeat" padding="" margin_top="0px" margin_bottom="0px" class="" id="" animation_type="" animation_speed="0.3″ animation_direction="left" hide_on_mobile="no" center_content="no" min_height="none"]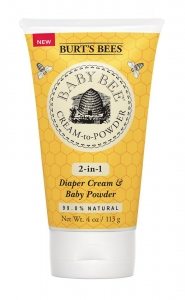 I tested Burt's Bees, baby bee 2 in 1 cream to powder diaper cream.
First thing that you notice is a subtle smell from the cream;  not over strong or perfumed but not a medicated or pungent smell either.
Upon application it is quite wet, almost oily in texture. However as it is rubbed in and spread on baby's bum is turns to powder & leaves a lasting soft finish.
I found it quite versatile in the fact that it is soft and gentle enough for my 5 month old as a barrier yet also still as effective for my 16 month old who is currently teething with his back teeth.
It was very good and effective at both moisturising and stopping wetness from nappy getting at their skin.
I would highly recommend this product.
Burt's Bee's Baby Bee Cream-to-Powder diaper cream is available from €12 in Boots and other pharmacies.
maternity & infant
[/fusion_builder_column][/fusion_builder_row][/fusion_builder_container]
Originally posted 2017-12-14 15:23:19.