Summer dinners can be tricky, cumbersome things where I sometimes find myself reaching for yet another pan, bowl or pot to add in another delicious flavour to my meal. And while the meal will turn out delicious (yes, I know – I'm brilliant), the dishes that await my aching lower back after dinner are becoming less and less worth it. And surely I'm not the only one who has better things to do after dinner than dishes?
This is where the one pot dinners come in. And although we use this method loads in Autumn and Winter when we crave our casseroles, stews, and coddles, there's no reason why our light, bright summery dishes shouldn't partake in this glorious (and flavour enhancing) method. Some dishes are best done in cast iron skillets, which if you have, you'll know are a bit tricky to keep well, but can go from on the hob to in the oven quick and easy!
Asian beef lettuce wraps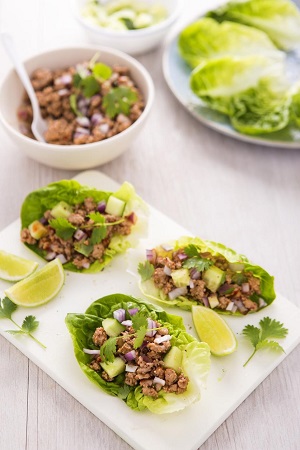 In summer nothing is better than food you can eat with your hands. And when you can sub wraps for large, crispy leaves of butterhead lettuce (without any griping) you know you're doing something right.
Ingredients (serves 4): 450g ground beef, 2 tsp vegetable oil, 2 inch knob of fresh ginger (finely grated), 2 scallions, 2 minced garlic cloves, 2 tbsp soy sauce, 1 tsp crushed red pepper flakes, ¼ cup hoisin sauce, 1 head of butterhead lettuce (leaves separated and washed), ¼ cup chopped salted peanuts.
Method: In a large skillet, heat the oil until shimmering. Add the beef and cook until brown. Stir in the ginger, garlic, scallions, soy sauce, red pepper flakes and hoisin sauce. Taste and season with salt and pepper if needed. Spoon mixture into lettuce wraps and sprinkle with peanuts before serving.
One pot zoodles and meatballs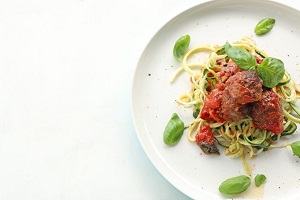 Nothing goes down better with kids than spaghetti and meatballs, and this trick with the courgette noodles is a great way to sneak in some vege into this deliciously saucy dish.
Ingredients: 2 tbsp olive oil, 1 medium onion, 1 garlic clove, 1 can chopped tomatoes, 300ml vegetable/beef stock, 400g precooked meatballs, 6 medium courgette, grated parmesan cheese for serving.
Method: Heat the oil in a large pot until shimmering. Saute the onion and garlic until soft, about 5 minutes. Add the can of tomatoes and the stock, stir to combine and bring to a simmer. Toss in the meatballs and simmer for about 12 to 15 minutes. While meatballs are simmering, spiralize your courgette. Once the meatballs are cooked through, toss in your 'courgetti', and toss through the sauce for about 5 minutes. Serve immediately, topped with parmesan cheese.
BBQ chicken burrito bowls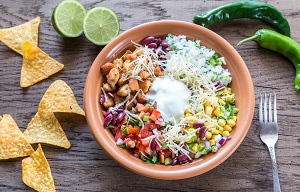 Get your kids into the burrito trend without the mess using this one pot recipe.
Ingredients: 2 or 3 medium Roma tomatoes, 1 cup of chicken stock, 1 finely minced clove of garlic, ¼ medium onion coarsely chopped, ¾ tsp ground cumin, 1tbsp vegetable oil, 1 cup of rice, 1 bay leaf, 600g of boneless chicken breasts.
Method: Place the tomatoes, stock, garlic, onion, ¼ tsp cumin, ¾ tsp salt in a blender and blend with a hand blender until smooth. Heat the oil in a large skillet until shimmering. Add the rice and cook until the rice is fragrant and crackling about 3-5 minutes. Add the tomato blend and bay leaf, and stir to combine, scraping up any stuck rice kernels. Bring mixture to a boil. Season the chicken with the remaining cumin and add it to the pan once the mixture is boiling, nestling it among the rice. Make sure all rice is covered by puree to ensure even cooking. Cover tightly with a lid and simmer, undisturbed for about 15 to 20 minutes, or until chicken is cooked through. Once the chicken is cooked, take the pot off the heat and chop the chicken into bite sized pieces. Place black beans into the pot on top of the rice in an even layer, and cook with the lid on for about 10 minutes. Once cooked, stir together rice and beans and remove the bay leaf. Toss the chicken with a dash of your favourite BBQ sauce to finish. 
To garnish: 1 can of black beans drained and rinsed, shredded cheese, sour cream, chopped avocado, salsa or hot sauce, shredded lettuce, crushed tortilla chips.
Colourful summer frittata
There's nothing like having breakfast for dinner, is there? And this recipe is sure to be a crowd pleaser with runny eggs mixed seamlessly with summery vegetables.
Ingredients: 1 tbsp olive oil, 1 clove of garlic minced, ½ onion chopped, a handful of chopped spinach, 200g cherry tomatoes, 6 eggs, ¼ cup of milk, shredded cheese.
Method: In a large skillet heat the oil on medium to high heat until shimmering. Add the onion and the garlic and saute until soft. Add the spinach and saute until wilted. Whisk the milk, eggs, and cheese together. Turn down the heat and add the eggs to the skillet. Leave undisturbed for about 2 to 3 minutes, then toss in the tomatoes. Once the frittata is firm apart from a small wobble in the centre, scatter remaining cheese on top. Serve once the cheese is melted with toast or baked potato.
maternity&infant
Originally posted 2017-07-18 10:25:31.