It's been confirmed by Kensington Palace that the Duchess of Cambridge is officially expecting her third Royal Baby in 2018.
A royal announcement
Today, Kensington Palace twitter sent the public into a frenzy as they announced that Kate and William are expecting their third child to be born in April 2018.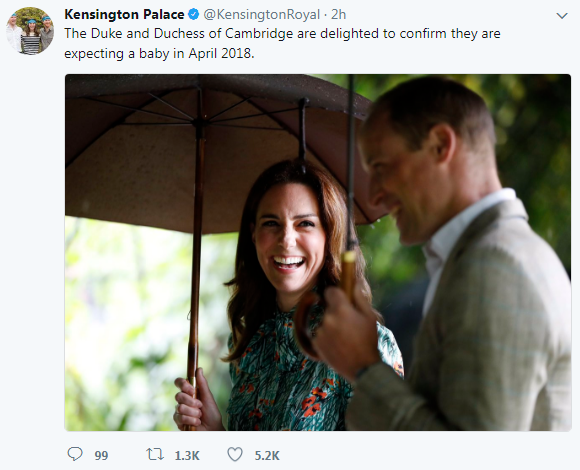 Having suffered from acute morning sickness, aka Hyperemesis Gravidarum, as with her other two pregnancies, Kate took some leave from her royal appearances until recently. But Kate was seen with her usual charm and elegance at an event this past weekend. Even taking the time to do a little dance with Paddington Bear as she and William visited the famous train station.
Who else is expecting a baby in 2018?
The Princess and the Bear. Kate, and William, meet the star of Paddington II at his namesake station pic.twitter.com/alzG27W4jI

— Simon Perry (@SPerryPeoplemag) October 16, 2017
Kate's style has always been the envy of women everywhere, but none so much as her maternity style which always seems effortless and feminine. Here she wears a beautiful pink floral dress with her trusty black, block-heeled shoes – perfect for doing a few dips and twirls!
The Crown actress Claire Foy opens up about her struggle trying to breastfeed while working.
The couple already have two children, Prince George (4) and Princess Charlotte (2).
All that's left to wonder now, is whether or not the royal baby is a little prince or a little princess…!
What do you think it is?
Some Kardashian babies are on the way… but who's pregnant in that family? Find out!
maternity&infant
Originally posted 2017-10-17 16:41:16.