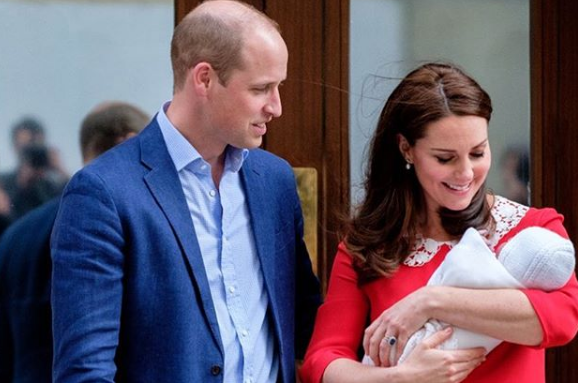 A lot of people are questioning just how quickly the Duchess of Cambridge was able to leave the hospital this week after giving birth to her third child, a son Prince Louis.
Mere hours after giving birth, the Duchess greeted the crowds outside the hospital looking nothing short of amazing; clean, full makeup, heels and a blow out, if you don't mind. All the while holding her little newborn Prince Louis while waving and smiling to the crowd.
Understandably, people have some questions. And the internet, the kind of place that it is, had a few things to say.
Let's keep this real for the moms. The Duchess is wearing a diaper. pic.twitter.com/kl6SJUu6T0

— Molly McNearney (@mollymcnearney) April 23, 2018
A Full Staff
Let's be honest – we're not in the same position as the Duchess. We don't (most of us anyway – please contact us if you have a full staff and let us know how you got that) have a full staff of people solely to look after our children's every need, take care of our homes, and schedule every minute of everyday for us. Most of that comes down to us.
And to be honest, come mums don't like to stay in the hospital for too long after giving birth. A lot of people don't like the fuss and the noise. Some mums just want their own, quiet homes and their own bed. We get it. We really do. And since this is the Duchess' third child, we think she maybe just had enough and said 'I'm out of here,' once little Prince Louis arrived.
But how was she that presentable?
It can be done. With a team of people, it can be done. And when it's your sole job to be a public presence, it will be done. She might not have been up for it – after all what new mother is up for greeting crowds of people after pushing a baby out of her vagina? – but her gracious greeting to the crowds after giving birth was nothing short of amazing. An achievement that has people all over the world astounded and awed. Nevermind that she might have got home thirty minutes later and collapsed into bed in her oldest sweatpants and a shirt (that would be my plan, anyway).
And as the above tweet says – she was wearing a nappy folks. That much, we know to be true.
maternity & infant
Originally posted 2018-04-27 11:20:47.