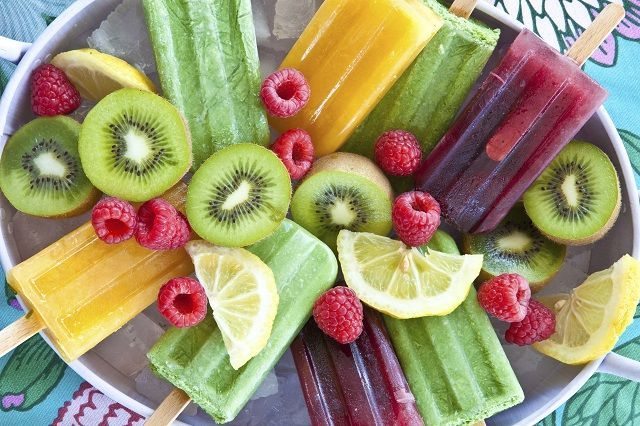 It's getting hot out there, and we're pretty sure the ice cream shops are doing a roaring trade right now! We have six easy recipes for delicious homemade ice cream, ice-pop and frozen yoghurt so you can skip the queues and cool down and keep the whole family happy. Enjoy!
Chocolate chip ice cream
Ingredients
2 cups heavy cream, 1 cup whole milk, 1/2 cup sugar, 1 teaspoon vanilla extract, 4 ounces semisweet chocolate
Instructions
Combine the cream, milk, sugar, and vanilla in a large bowl and use an ice-cream maker following  instructions for use and once your consistency has reached the desired state, stir in the chocolate. Serve immediately or freeze in an airtight container.
Berry frozen yoghurt
You can make frozen yoghurt with or without an ice cream maker. A food processor can be used instead of a mixer. If you're looking for the delicious taste of cream with less calories, then froyo is the answer. Try this yummy strawberry  recipe to keep you cool on a hot day.
Ingredients
4 cups frozen berries (strawberry, blueberry, raspberry), 3 Tablespoons or honey, 1/2 cup plain yoghurt (non-fat or full fat), 1 Tablespoon fresh lemon juice
Instructions
Blend the frozen berries, yoghurt, honey and lemon juice in the food processor for about 20 seconds. Process until creamy, about 5 minutes and serve!
Fresh fruit ice pops
Ingredients
1 peach, cut into 1/2-inch slices, 2 kiwis, peeled and sliced into 1/4-inch rounds, 3/4 cup strawberries, finely chopped, 1/2 cup blueberries, 1/2 cup raspberries, 2 cups orange juice
Instructions
Combine fruit in a mixing bowl, and arrange the mixture into 8 3-ounce ice-pop molds. Pour enough juice into each mold to just cover fruit. Insert ice-pop sticks and freeze for 6 hours until solid.
Blood orange and yogurt ice pops
Ingredients
2 cups freshly squeezed blood orange juice, 2 cups of plain yoghurt, 1 tablespoon blood orange zest, 1/3 cup of honey, 1 teaspoon vanilla extract and a pinch salt of salt
Instructions
Whisk the yoghurt with the juice until smooth in a bowl. Add the honey, vanilla, and salt. Pour into popsicle molds and freeze overnight or for 4 hours. Insert popsicle sticks after 1 hour in freezer.
Chocolate sprinkle ice cream
Ingredients
1 chocolate bar, 1 can sweetened condensed milk, 2 cups heavy cream
Instructions
Breaking the chocolate bar into small pieces, place in a microwavable bowl and microwave until melted, checking after 30 seconds to stir. Next, stir the condensed milk into the melted chocolate and leave to sit while you prepare the ice cream. Place your cream in a large bowl and mix with a hand mixer until it becomes stiff. Fold your cream into your chocolate mixture. Place in an airtight container and freeze for two hours. Serve with chocolate sprinkles for added deliciousness!
Mint ice cream with chocolate chips
Ingredients
2 cups milk, 2 cups heavy cream, 1 cup sugar, 1/2 teaspoon salt, 1 tsp vanilla extract, 1 tsp peppermint extract, 1 cup mini semi sweet choc chips, 1 tsp green colouring
Instructions
Mix the milk, cream, sugar, salt, vanilla extract and peppermint extract until the sugar has dissolved. Color to your liking with the green food coloring. Next, Pour the mixture into an ice cream maker, and freeze according to the manufacturer's instructions. After about 10 minutes into the freezing, add the chocolate chips. After the ice cream has thickened, about 30 minutes later, spoon into a container, and freeze for two hours.
maternity & infant
Originally posted 2018-05-24 11:30:43.