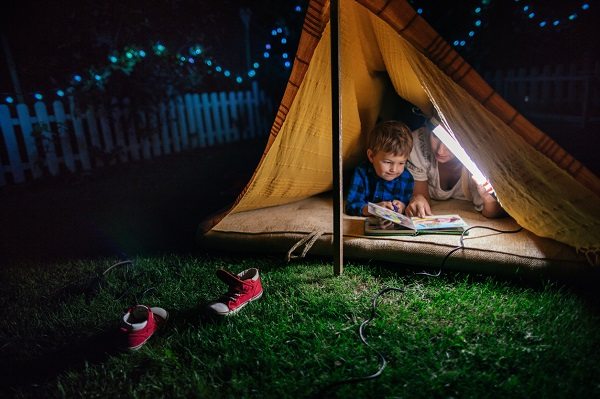 We've all been there – the kids are yelling, 'I'm bored' and you all have cabin fever – but you're broke! What can you do with the kids without spending any money? Try our ten things to do with kids on a budget!
Beach day
A day at the beach can be the perfect way to while away a few hours. No matter the weather, children are happy to get their feet dirty in the sand and watch the waves crash. For added amusement you can make sand castles or bring a kite and watch it fly high.
Scavenger hunt
This one takes some effort and creativity but it's so worth it. Create a scavenger hunt around your home (inside and out) and leave clues for your little detectives to unravel. With every clue solved leave a treat for them as a reward, make the last prize an extra special one. Make sure your riddles are difficult enough so it provides a challenge but not so hard they give up and look for other diversions.
Tournament time
If your family is even half as competitive as mine this one will go down a treat. When you have a large number of participants, tournaments can be a great way to ensure everyone interacts, and an even better way to keep energetic kids occupied for a few hours. Any kind of tournament will do the job effectively, you just have to decide which your kids will enjoy most. If the weather permits you can have an entire Olympics complete with sprints, obstacle races, football, tennis and any other sport you can think of. If you don't have the garden space for these activities, the park is always a good alternative.
Swim fans
If you don't mind spending a little cash but don't want to break the budget, swimming can be an inexpensive day out for large families. Look for an inexpensive public pool around you through your local council's website. There are loads of family games you can play in the pool and all you need is a light ball. Remember children are ALWAYS hungry after a day at the pool so if you're trying to save the coin bring a snack or packed lunch for afterwards.
Take a hike
If your kids love being in nature, a hike up a mountain can be the perfect way to engage their love of all things green. That fresh air and exercise will be sure to tire the nature explorers out, but make sure everyone is wrapped up warm; the only thing worse than a lively child off school is a sick child off school.
Painting
If your kids are the artistic type, try painting. Children's paint and plain paper are inexpensive and easily found in any bargain shop. Even if your kids not artistic they'll just love the opportunity to make a mess!
Book worms
Use this free time away from school to visit the local library. Most libraries have a set "Story Time" where kids can go listen and participate. Still, even if you go by yourselves, this can be a good opportunity to teach children that reading can be for pleasure and not just for school.
Bake a cake
Kids love baking! It's messy, it's fun and they can eat their own work. Make some super tasty brownies or easy peasy sugar cookies and don't forget to decorate them with fun icing colours and chocolate chips. They can even serve them at a tea party once they're finished.
Budget back garden camping
Why not pitch a tent in the back garden and turn it into a camping day? Light the barbecue and spend the day sitting and eating outside. If your kids are older, you might even let them stay out there for a few hours at night!
Build a fort
If you're more Gucci than Bear Grylls you can bring the camping indoors. Build a fort from old blankets and chairs or even set up a tent in the living room. Pack the tent full of sleeping bags and budget camping treats and it'll feel just like you're in the great outdoors.
maternity & infant
Originally posted 2017-05-09 11:45:37.