It may be daunting at first, but once you're used to handling slippery wet babies, bathing your li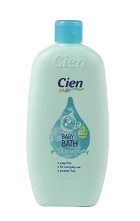 ttle one can be a highlight of the day – for both of you! For dad, too, in the early days, it can be a valuable way to bond with your new child, and a way to give a breastfeeding mum a break. As your baby gets older, a bath can be a great part of a healthy bedtime routine, signalling the end of the day and time for a long sleep (here's hoping!). With thanks to Lidl's new Cien Baby range of skincare, here are some tips on bathing your baby safely:
Don't feel under pressure to bathe a new baby daily – two or three times a week is fine at first, but remember to keep your baby clean in between baths by washing his face and ensuring his nappy area is clean and dry after changing.
The big bath can be daunting if your baby is very small, so we'd suggest a small baby bath or even the sink. If you do decide to brave the big bath, there are a number of supports available on the market, along with rubber non-slip mats.
Above all, never leave your baby alone in the bath, even for a few seconds. If you do need to get something or answer the phone, bring your baby with you, as it takes only a few moments for your baby to get into difficulty in the water.
Before you begin the bath, make sure you have all you need with you. This may include: a soft sponge or cloth; a mild liquid cleanser or baby bath, shampoo and lotion such as the ones in the Cien Baby range at Lidl; at least one clean and dry towel, a clean nappy and clothes, and some clean cotton wool for bathing your baby's eyes.
To ensure the bath is a safe temperature, use cold water first and then top it up with warm water. If you have a bath thermometer, check that the water is between 37 and 38 degrees Centigrade. For babies up to six months old, fill the bath with only a few inches of water.
Support your baby throughout with one arm, and use the other arm to wash him. The cleanser can be added to the water or used with a soft sponge.
When you are finishing bathing your baby, take him out straightaway and wrap in a warm towel. Pat dry and give him a good cuddle! You can use a gentle baby lotion to moisturise the skin if you like, such as Cien Baby Lotion. Dress him quickly so he doesn't get cold.
Cien Baby products are now available in Lidl stores nationwide. The range consists of Cien Baby Bath, Cien Baby Lotion and Cien Baby Shampoo; each product costs just 89c each.

Originally posted 2017-02-09 12:41:19.