The sun is shining and finally it feels like a little taste of summer has arrived in Ireland. Most people believe that, because we live in a country plagued by summers of cloudy days and lukewarm temperatures, sunscreen is not a household essential. When abroad parents are very careful to protect their child's skin from the dangers of the sun. Yet, many are unaware that sun protection in Ireland should begin in the month of April and continue until September. In these months UV levels become much higher than at other times of the year and while you want to encourage your little ones to enjoy their outdoor activities, it's important that they do it in a sun smart way!
With that in mind, the Irish Cancer Society are promoting their SunSmart campaign in the hope of educating both parents and children on the dangers of sun damage. The campaign is teaching parents that while UV rays are helpful in the production of vitamin D, it is also linked of skin cancer. Much of the UV damage that causes skin cancer takes place in the early years of life with most people getting the majority of their sun exposure before the age of 18.
For the best possible UV protection the Irish Cancer Society are recommending that parents follow the SunSmart Code below.
Step 1: Seek some shade
When outdoors, UV rays can reach you directly from the sun or indirectly scattered by clouds or particles in the atmosphere. They can also reflect from surfaces like snow, seawater and concrete. Good shade can give up to 75 per cent protection from UV rays.
Step 2: Slip on some clothes
Materials like linen, cotton and hemp let less UV rays through while stretched fabrics, wet clothing or old threadbare clothing allow more UV rays to reach the skin. Dark-coloured clothing will protect the skin more effectively than lighter-coloured material while UPF (Ultraviolet Protection Factor) clothing offers the best method of blocking UV rays.
Step 3: Wear sunglasses
It's little known that your eyes can also fall victim to dangerous UV rays. Short-term UV exposure can result in mild irritation, difficulty with bright lights, excessive blinking and sunburn of the part of the eye known as the cornea and Long-term exposure can result in cataracts and cancer. Toy sunglasses do not provide protection from UV rays. If your child is uncomfortable with sunglasses, don't forget that a broad-brimmed hat and shade will also give some protection.
Step 4: Use sunscreen
Sunscreen alone will not offer total protection for either you or your child but it will definitely help. Use sunscreen with SPF 15 or higher (SPF 30 or higher for children) and UVA protection and apply to dry skin 20 minutes before going outside. Use water resistant sunscreen if your child is involved in water activities and always reapply sunscreen every two hours. We are loving Lidl's Cien Sun range, high-quality products that are priced between a very purse-friendly €2.49 and €4.99.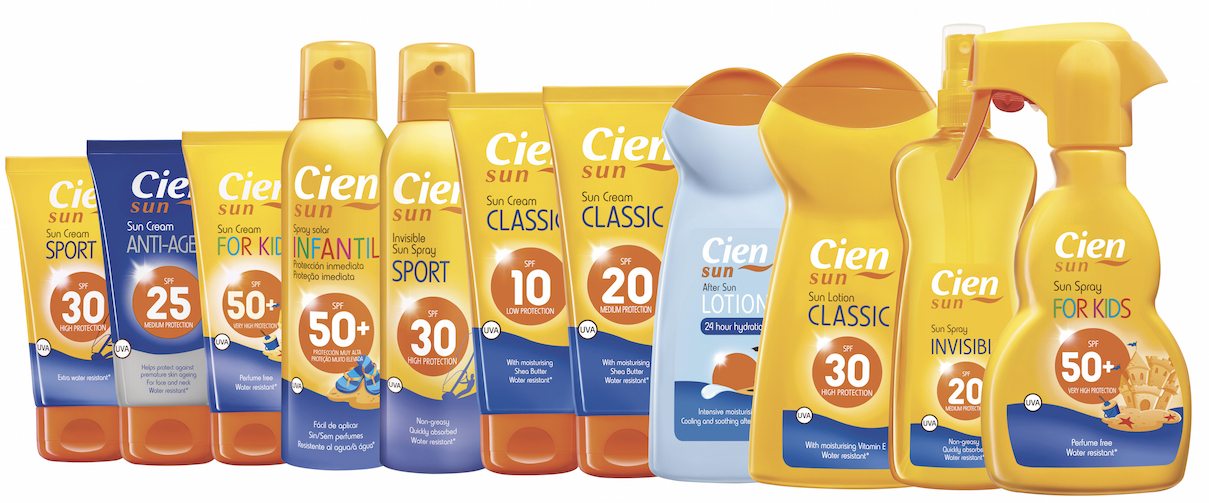 Step 5: Know the UV index
Get to know the UV index and get into the habit of checking for it on the weather report. When the UV Index is 3 or more you are at greater risk of skin damage that can lead to skin cancer.
For more information on The SunSmart campaign and more details for sticking to the SunSmart Code click here.
Sun protection from Lidl
This summer, we're heading down to Lidl for great sun protection at a great price – no need to compromise on quality with prices. The full range is as follows:
| | | |
| --- | --- | --- |
| Sun Cream Anti Age/Sport | | |
| Sun Cream for Kids SPF 50 | | |
| After Sun Lotion | | |
| Sun Cream SPF 10/20 assorted | | |
| Sun Spray for Kids SPF 50 | | |
| Transparent Sun Spray SPF 20 | | |
| Sun Milk SPF 30 | | |
| Transparent Sun Spray SPF 30 (Aerosol) | | |
| Sun Spray for Kids SPF 50 150ml | | |
| After Sun Gel /Lotion sort. | | |
maternity&infant
Originally posted 2017-05-02 16:10:26.