When the warm weather comes, I always start to put away the big pots and simmering sauces for lighter dishes. While this makes meal-planning a little bit harder, it's nice to freshen up our plates with seasonal ingredients, full of flavour.
Try this simple teriyaki salmon with stir-fried vegetables for a light Spring supper.
Ingredients
For the Teriyaki sauce
1⁄4 cup soy sauce
1 cup water
1⁄2 teaspoon ground ginger
1⁄4 teaspoon garlic powder
5 tablespoons packed brown sugar
1 -2 tablespoon honey
2 tablespoons cornstarch
1⁄4 cup cold water
For the salmon
4 tbsp Teriyaki sauce
2 tbsp sweet chilli sauce
1 lime, zested and juiced
4 salmon fillets
1 tbsp vegetable oil
300g pack stir-fry vegetables
2 tbsp soy sauce
A little sesame oil, to serve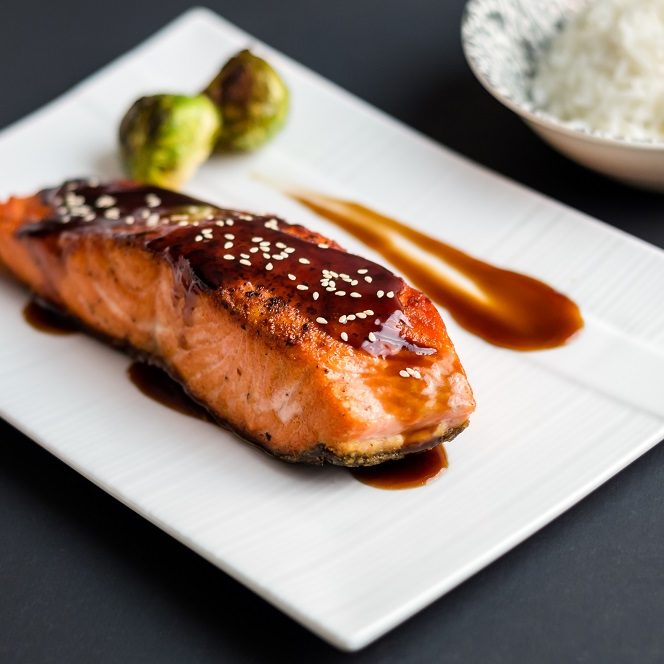 Method
To make the Teriyaki sauce
Mix all but cornstarch and 1/4 cup water in a sauce pan and begin heating.
Mix cornstarch and cold water in a cup and dissolve. Add to sauce in pan.
Heat until sauce thickens to desired thickness.
Salmon and stir fried vegetables
Mix the teriyaki sauce, sweet chilli sauce, lime zest and juice in a large bowl. Add the salmon fillets and turn to coat and marinate for 15 minutes. Heat the vegetable oil in a large frying pan and fry the salmon fillets for 4-5 minutes each side, until slightly blackened. Set aside. Add the remaining marinade to the pan and reduce slightly. Cook the stir-fry vegetables in another pan with a splash of water and add the soy sauce, cooking for a further 2-3 minutes. Divide the stir-fry vegetables between plates, top each portion of vegetables with a salmon fillet and drizzle with the reduced marinade. Drizzle with a little sesame oil and serve.
Like this recipe? Try it out and tag us on our Instagram @maternityandinfantfamily
maternity & infant
Originally posted 2018-05-04 12:10:35.