What better way to celebrate Halloween than with some pumpkin carving? It's an activity that all kids adore – but here's how you use what's left of your pumpkin when your Jack O'Lanterns are lit up!
Pumpkin puree
Ingredients
1 pumpkin
Pinch of cinnamon
Method
Pierce your pumpkin all over with a sharp knife or a fork before cutting it in half. Scoop out the seeds (place aside for later!) and place both halves of your pumpkin face down on a baking sheet or parchment paper into the oven. Bake at 160 degrees Celsius for about 45 minutes, or until the flesh is tender.
Scoop out the flesh and puree in a food processor or blender until smooth.
Add cinnamon to taste!
Having a party? Check out these great Halloween games for kids here!
Pumpkin bread
Ingredients
280g plain flour
70g toasted pumpkin seeds
200g shredded fresh pumpkin
1 teaspoon vanilla extract
3 large eggs
180ml vegetable oil
300g granulated sugar
1/2 teaspoon salt
1/4 teaspoon baking powder
1 teaspoon bicarbonate of soda
2 teaspoons cinnamon
Method
Preheat the oven to 170C/ Gas 3.
Sift the flour, cinnamon, baking soda, baking powder, and salt together.
In a separate bowl, mix the sugar, vegetable oil, eggs, and vanilla. Combine both mixtures and fold in the shredded pumpkin and seeds. Once the ingredients are all incorporated pour into a non-stick 22 by 12 by 8-cm loaf pan. Bake for 1 hour and 15 minutes. At this point, a knife inserted into the middle of the loaf should come out clean. Cool for 15 minutes and turn out onto a cooling rack. Cool completely. For muffins, the temperature should also be 170C/ Gas 3, but bake for 30 min.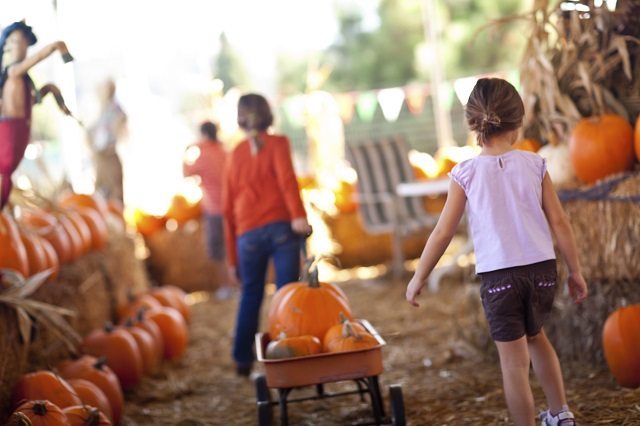 Roast pumpkin seeds
These little seeds are a great snack but can also be a delicious addition to your morning porridge – and a brain booster too! Just be sure to mind your kids while they're snacking on any seeds or nuts.
Ingredients
100g raw whole pumpkin seeds (Or 1 pumpkin)
2 teaspoons melted butter
1 pinch salt
Method
Preheat oven to 150 C / Gas 2.
Half your pumpkin and scoop out the seeds with a clawed spoon and place in a bowl with water. Whisk together to remove the stringy pulp; they should float to the top. Strain the seeds and dry them off with a cloth. Toss in a bowl with the melted butter and salt. Spread the seeds in a single layer on a baking tray and bake for about 45 minutes or until golden brown; stir occasionally. Let cool before serving.
Originally posted 2017-10-24 14:39:04.