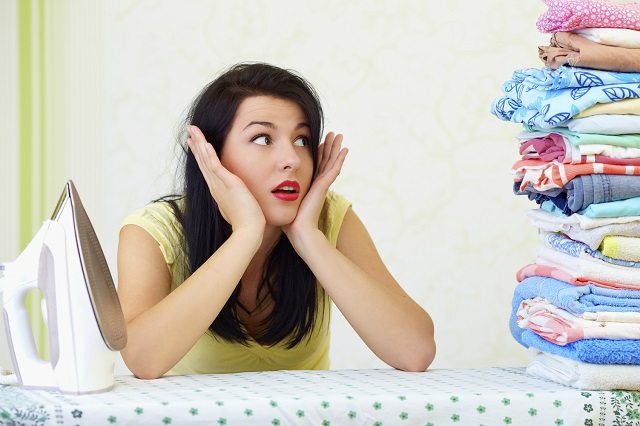 We think we know the secret to a happy and peaceful family life – avoiding desperate jobs like ironing! According to a recent survey, ironing is the second most hated task with a staggering 18 per cent calling it their "worst chore". Yeah, we can understand that. But did you know that it's possible to minimise the amount of stuff that you need to iron?
Try these handy tips from hassle.com
Shake that fabric
Set the washing machine spin to 800 rpm! This is not only gentler on the fabric but also means less ironing for you. Then, give them a shake and hang them out to dry. The clothes will dry without any creases.
Top tip: Shaking the clothes instead of wringing them will mean less creases.
Get steamy
Who said multitasking needed to be difficult? This is a great solution for any last-minute ironing you'd normally try and do. Just hang your clothes up in your bathroom, turn your shower onto hot and let the shower steam get to work. Within ten minutes your clothes will be crease-free and ready for a night on the tiles.
Top tip: Shut all your doors and windows to really get the steam working.
A little water goes a long way
Just noticed the clothes you want to wear later are creased? Don't panic! Just spray a little water on the creased areas and leave it hanging for around an hour. When you come back to it, all the creases will have disappeared.
Top tip: Be careful not to go overboard on the spraying, your garment will only end up soaked. Think more of a light spritz, less of a drenching.
We need to straighten a few things out
Okay okay, so this next one may seem a little bit like actual ironing, but we promise you, you won't have to touch an ironing board for this. In a matter of minutes, your straighteners can iron out the creases of your collar, to the wrinkles of your skirt.
Top tip: Make sure your straighteners are clean. You don't want to end up with hair product cooked into your clothes (we know this from experience!).
Just one more reason to love your bed
This effortless ironing trick is all down to the roll. Grab your wrinkled garment and carefully roll it up smoothing out the creases as you go. Pop the rolled garment under your mattress, and take a nap for about an hour. When you wake up, pull out the garment and voilà, a crease-free ready to-wear garment. Now, who says you can't be productive while you nap?
Top tip: Clean your mattress first, to avoid dust mites getting into your clothes (yuck!).
Tumble out the creases
A super easy fix for crease-riddled clothes. Spray a little water on the creases and pop them in your tumble dryer. After just a few minutes your clothes will be warm and crease-free; it's a win-win.
Top tip: Make sure to take your clothes out as soon as they've finished spinning, otherwise they'll crease up again and you'll be back to square one.
maternity & infant
Originally posted 2016-07-07 09:55:00.