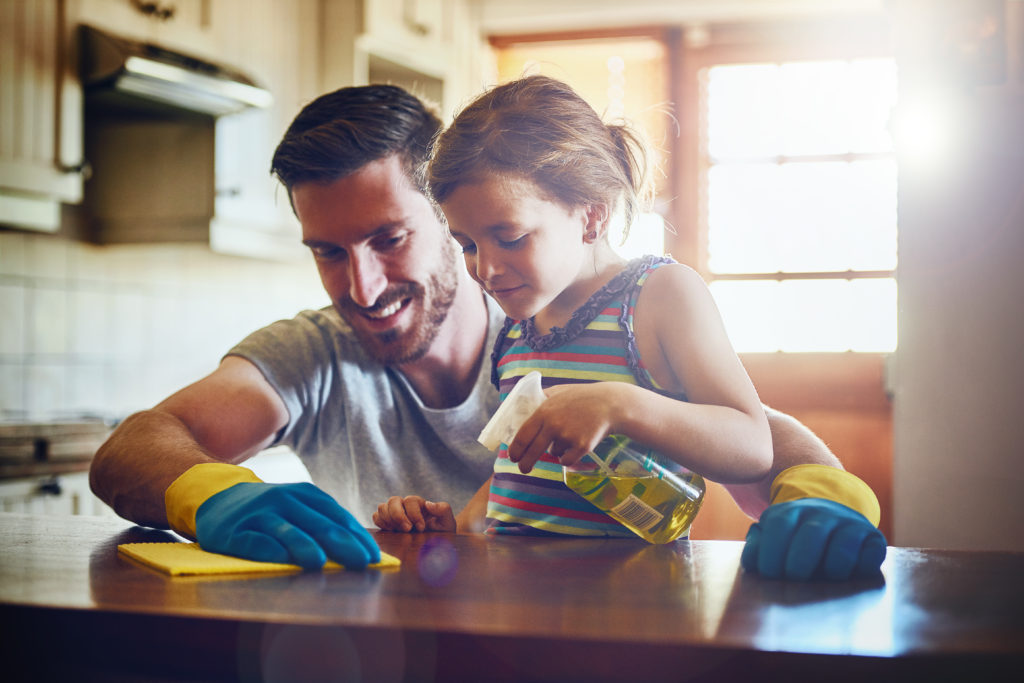 Note: This post is not sponsored.
If you're like us and you home resembles more of a circus arena than a well cultivated, perfectly laid out open plan dream, then high-five. But for Easter, we want to spruce the place up, and what better time to tackle a bit of a clear out than when the kids are around to help out!
Leading Irish cleaning company, The Cleaning Concierge has revealed its top-five cleaning hacks to help parents survive the Easter break and keep their homes sparkling clean.
Chocolate Stains
Scrape off any hard chocolate. (Pop the fabric into the freezer to harden the chocolate if needed.) Rinse with cold water then with a stain remover or washing up liquid rub the stain in a circular motion. After 10 minutes rinse again.
Sticky Situation
Pesky labels can  be a nuisances for our tired fingers. Save yourself the hassle and try this nifty trick. Use a fragrant essential oil to loosen the glue and peel stickers or labels right off. This leaves your surface clean and sweet smelling too.
Gravy Spills
Almost unavoidable if you're going for a lovely bit of Easter lamb this year. If you do come across a spillage, mix a half teaspoon of washing up liquid (as they have a good de-greaser built in) with a cup of warm water and sponge the mixture on the stain – but do not rub. Wash the cloth as usual.
Crayon on the wall
We love our little Picasso's art works, but not when they stray to the floors and walls! When that happens (and believe us, it'll happen!) spray a little WD-40 onto the marks and wipe with a clean cloth. WD-40 will not damage paint or most wallpaper. You must test the area first. Alternatively use non-gel toothpaste, the tiny abrasive beads in the toothpaste will rub away the crayon every time!
Naturally Clean Cooker
Clean the oven with products from the cupboard – baking soda, vinegar and lemon juice. Ensure that the oven is completely cool and remove heavy dirt. Generously sprinkle baking soda on the oven and using a spray bottle, spritz the baking soda with vinegar and watch it bubble up. Rest for at least 4 hours and wipe away with a textured sponge. If any residue is left, simply use clean water with a dash of lemon to wipe clean.
About The Cleaning Concierge
The Cleaning Concierge offers bespoke home cleaning plans carried out by its highly skilled, trained, insured and Garda vetted team with nearly 20 years' of professional cleaning experience.
maternity & infant
Originally posted 2018-03-27 15:27:01.