With the arrival of fine weather (I'm sure it will come eventually!) comes the slightly lessened desire to cook those heavy casseroles and stewed dishes that comforted us through the long winter.
With fresh fruit and vegetables coming into season, and the taste being so fresh and delicious there couldn't be a better time to try and introduce the little guys to a salad or two. And if they're fun to eat and make all the better!
Pasta salad
This is a good compromise when trying to introduce salads, as kids will pick up some veg along with every bite of yummy pasta!
375g pasta, dry

85g cherry tomatoes

1 handful of spinach, roughly chopped

85g pine nuts

85g bell pepper, red

1 tablespoon olive oil

85g Parmesan cheese
Boil a pot of water and cook the pasta for approximately eight minutes or until done. Chop the tomatoes into small bite sized pieces. Drain the pasta and toss together in a bowl with the tomatoes, spinach, pine nuts and cheese. Serve hot or cold.
Salad by the jar…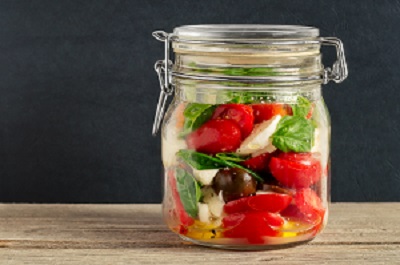 Tickle your kid's interest by putting their lunch in  jar! They'll enjoy the new view and how it gets mixed up by shaking or stirring.
1 teaspoon golden balsamic vinegar

3 teaspoons extra virgin olive oil

1/2 medium zucchini, spiralized

1 cup cooked farro

1/2 cup fresh mozzarella pearls (or a larger size cut small)

heaping half cup of grape tomatoes

5-6 fresh basil leaves

In the bottom of a mason jar, add vinegar, olive oil, salt and pepper. Shake or stir to combine. On top of dressing, add spiralized zucchini, then add farro, mozzarella, tomatoes and basil. When ready to serve, tear basil leaves to desired size, pour into a bowl or onto a plate, and stir to coat all ingredients with dressing.
Carrot ribbon salad
Show your kids how you make this salad – they'll love the way the carrot falls to ribbons!
1 tsp honey
¼ tsp garlic powder
3 scallions – sliced
2 tbsp toasted sesame seeds
2 tbsp rice vinegar
1 tablespoon soy sauce
1 tbsp sesame oil
2 carrots
1 courgette
2 cooked beets
Spiralise the vegetables into noodles or ribbons – either works for this recipe! You can do this using a spiraliser or a greater or a mandolin. Mix together the top ingredients from the honey to the sesame oil in a bowl with a whisk. Toss together the spiralised vegetables and drizzle with the dressing. Serve cold.
Pick and mix tabbouleh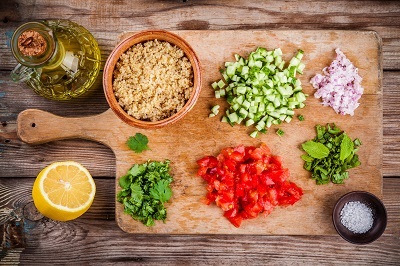 Give your kids as much initiative as possible and let them choose what goes on their plate. Provide colourful ingredients with a variety of textures and let them surprise you!
450g bulgur wheat

1 clove garlic, minced

1/2 tsp. ground cumin

2 medium tomatoes

2 carrots

1/2 an English cucumber

1/2 a red onion

2 handfuls fresh flat-leaf parsley or 1 handful parsley and 1 handful mint

2 tbsp. olive oil

1 tbsp. lemon juice

Cook the bulgur according to package directions. Once all the liquid has been absorbed, add the garlic and cumin to the bulgur and fluff gently with a fork. Spread it out on a large baking sheet to cool quickly. While the bulgur cooks, chop the tomatoes, cucumber and red onion. Grate the carrots and arrange all the veg on a platter. Chop the fresh herbs and add them to the platter as well. Drizzle the bulgar with the olive oil and lemon juice. Use a fork to gently stir it all together. Transfer the bulgur to a serving bowl and allow everyone to serve themselves, adding toppings from among the fresh ingredients on the platter.
Rainbow fruit salad
If your kids are totally against the idea of salad, remind them that their favourite fruity treats mixed together are also called a salad…might turn the idea on its head!
1 medium apple
50g strawberries
Half a mango
Quarter of a pineapple
2 kiwis
50g blueberries
50g blackberries
Chop all the fruit into bite-sized pieces and place in order in a clear jar. Or simply toss together in a bowl! Serve cold, with yogurt or ice cream as a treat on hot summer days!
maternity&infant
Originally posted 2017-06-14 09:01:01.