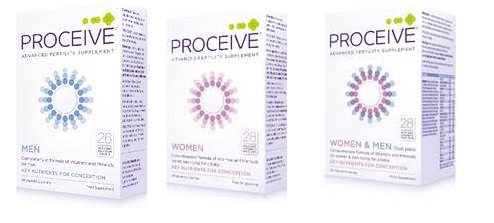 Sponsored: Top fertility tips for this Christmas with PROCEIVE®
Posted by Ellen Flynn
on
At this time of year, many people will be writing their Christmas wish lists. For some, the only gift they want is something that money can't buy – and that's news of a pregnancy! As October the 1st is the most popular birth date in Ireland, it's no surprise that many couples try for a baby during this time.
But this won't happen easily for everyone. Research by the fertility supplement PROCEIVE® has revealed that 46 per cent of mums are worried about how long it will take them to get pregnant.
It was also discovered that one in three Irish women expect it will take them six months or more to get pregnant. And while a lucky 40 per cent will get pregnant in their first three months of trying, a further third will still be trying after 12-months.
Nutritionist Gaye Godkin reveals the items on the naughty and nice lists that can affect conception chances and how you can boost your fertility over the Christmas period.
Naughty list
Stress – There is so much to do in the festive season that on Christmas day you often can find yourself festively-frazzled! This can negatively affect your reproductive health as prolonged exposure to stress exacerbates the immune system. This, in turn, can disrupt the delicate female and male hormonal functions making getting pregnant harder.
Sleep – Good quality sleep is very restorative and is essential for conception. Getting sufficient sleep should be a priority for couples trying to conceive.
Caffeine – Did you know that drinking excess caffeine can increase the production of the stress hormone adrenaline? High levels of circulating adrenaline can interfere with the intrauterine environment, egg quality and male sperm production. It also depletes the body of many essential nutrients required for conception such as vitamin C, B and magnesium.
Alcohol – Many people over-indulge over the festive season, but did you know that alcohol is detrimental to both sperm health and female eggs? It can cause cellular damage to the body, as well as increase free radical production. Male sperm is also affected when alcohol turns to glucose in the blood. Excess circulating of glucose damages both sperm cells and destroys folate which s necessary for health DNA replication in sperm.
Processed foods – Being overweight decreases the chances of conception in both the male and the female, as fat cells may disrupt the functioning of the sex glands and interfere with hormonal harmony.
Trans-fats -Found in foods such as cake and biscuits, trans-fats may interfere with the delicate signalling that occurs between male and female hormone membranes.
Nice list
Iron-rich foods – Red blood cells deliver oxygen to the ovaries and if they receive insufficient oxygen and iron, the eggs can become less viable. In fact, studies have shown that lack of iron can cause anovulation, this is when a woman doesn't ovulate as her egg may be in poor health.
Omega 3 – Though it is vital to support mobility and motility, Omega 3 can't be made in the body, so it must be consumed by dietary sources. Omega 3 is involved in female hormone signalling and hormonal balancing. The best sources of Omega 3 are oily fish but avoid tuna in the pre-conceptual period and during the pregnancy as it contains high levels of mercury.
Zinc – Zinc is an essential fertility nutrient. Men need zinc for sperm health and the immune function. Women also need zinc to regular hormone processes. Zinc is abundant in shellfish and oysters, but it is also found in festive foods like turkey and nuts.
Selenium – Males depend on a good supply of selenium for optimal reproductive health. The best sources of selenium are brazil nuts, fish and potatoes fortified with selenium.
Vitamins and minerals – Vitamins and minerals play a crucial role. Without sufficient B vitamins, the body will struggle to make energy. A lack of amino acids will impoverish protein synthesis and may hamper hormonal and sperm production.
Couples trying to conceive should take a multivitamin tailored to support conception.

PROCEIVE®
Available for €24.95 in pharmacies nationwide, Proceive® is the most comprehensive fertility supplement available for men and women in Ireland. Its nourishing ingredients have been specially selected to support the nutritional needs of the male and female reproductive systems and correct nutritional deficiencies associated with conception. Learn more about Proceive here.
Gaye's top festive foods for men trying to conceive
Seafood Platters: Shellfish contain the highest amount of zinc
Turkey: This traditional Christmas meet is also rich in zinc
Nuts: Brazil nuts, in particular, are high in selenium and L'arginine
Vegetables: Brightly coloured vegetables contain carotenoids which are powerful anti-oxidants
Gaye's top festive foods women trying to conceive
Green vegetables: Are rich in naturally occurring folate content
Beef or good quality red meat: A festive favourite that is high in iron
Salmon: This oily fish is rich in omega 3 which supports hormone regulation
Carrots: Not just good for reindeers, carrots contain a Santa's list-full of vitamins and minerals including; vitamin c and contain potassium, vitamin B6, vitamin K, vitamin E, copper, folic acid, Zinc thiamine and magnesium.
Trying for a baby this Christmas? Win €100 worth of PROCEIVE® for men and women and increase your chances. See here for more!
maternity&infant