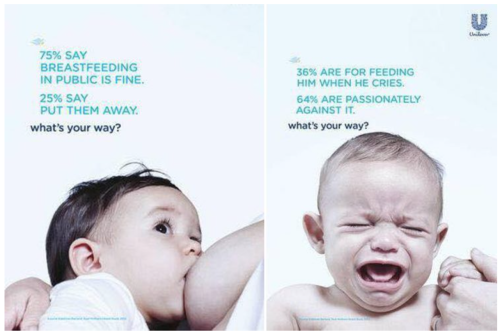 Why Irish mums are hitting out against the new Dove ad
Posted by Ellen Flynn
on
According to the Advertising Standards Authority of Ireland, it is no longer taking submissions of complaints regarding Dove Baby's new campaign. An online statement reads: "The ASAI has received a very large number of complaints concerning a current Dove Baby advertising campaign. We are presently assessing the complaints to establish the jurisdiction of ASAI code and how it may or may not apply to complaints received."
What's your way?
The ad begins with the text: "75 per cent say breastfeeding in public is fine – 25 per cent say put them away. What's your way?" The controversial slogan falls under the umbrella tagline of "Whatever choice you make as a parent we support you". This tag could have been the foundation for a fantastic campaign, celebrating parents and diversity. Instead, it fell flat on its face with what can be viewed as a discriminatory view of breastfeeding in public.
Read: Your guide to breastfeeding
Breastfeeding in public
Breastfeeding in public is not 'fine' as the ad suggests. By law mother's are allowed to breastfeed their children wherever they wish in both Ireland and the UK. Regardless of it being 'fine' (or not), it is illegal to ask a breastfeeding mother and her child to move to another area, or out of an establishment.
The ad has received many complaints from parents in both the UK and Ireland. It has incited division and argument, instead of inclusivity. Currently, the UK and Ireland reportedly have the two lowest rates of breastfeeding in Europe. 
If you're struggling with breastfeeding or would like more information, click here. 
maternity&infant