Spring is in the air, and with a new season comes new recipes – even for baby! Brighten your day and baby's plate with these healthy, colourful, and easy to make purées.
Broccoli and Pear Purée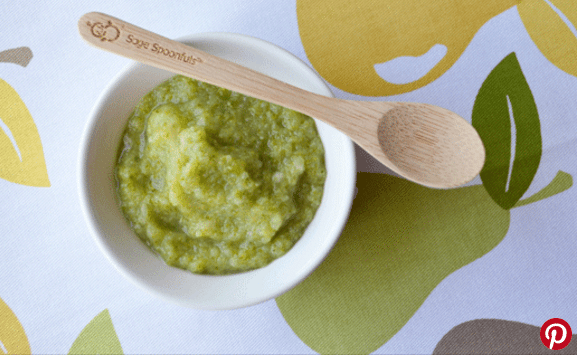 What you need:
1 large organic Bartlett pear, washed, peeled, cored and chopped
1/4 head of organic broccoli, washed and chopped
Directions:
1. Pour 1″ of water into a medium pot and bring to a boil over high heat.
2. Place the broccoli into a steamer basket and put the basket into the pot. *make sure the water does not touch the bottom of the basket. Cover the pot with a tight fitting lid and cook for 7 minutes.
3. Place broccoli and pear into a food processor and blend until it becomes mushy mash. (Mushy mash is a little thicker and lumpier than a smooth stage)
Puréed Mangoe
What you need:
Directions:
1. Scoop out the flesh/middle inside of the mango
2. Place mango fruit cubes in blender and purée
3. Add a bit of water, milk or breast milk to thin out purée
4. Put purée through strainer to remove any seeds and or peels.
Strawberry Applesauce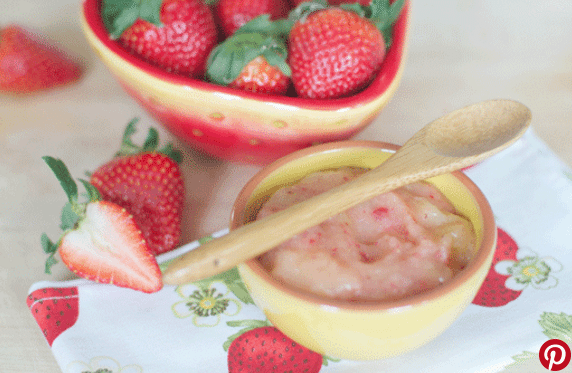 What you need:
4 large organic apples, washed, peeled, cored and chopped. (My favorite apple varieties are Gala, Pink Lady, Fuji and Honeycrisp. Almost any variety will work, but just avoid very tart apples like Granny Smith.)
10 organic strawberries, washed, hulled and chopped.
2 teaspoons of cinnamon
Directions
Pour 1″ of water into a medium pot  and bring to a boil over high heat
Place the chopped apples into a steamer basket and place the basket into the pot. **Make sure the water does not touch the bottom of the basket.
Cover the pot with a tight fitting lid and steam apples for about 7 minutes or until they can be easily poked with a fork. *****The strawberries do not need to be cooked.
Then place the apples and strawberries into a food processor, blend until smooth
Mix in 2tsp of cinnamon
maternity & infant